I've made a House on the Hill block now. It's a six inch block.
It's easy compared to the Honeymoon Cottage. I also found that Ruby McKim's book 101 Patchwork Patterns is accessible on the
101 Patchwork Patterns
website. You can download
House on a Hill
as a pdf of the original page and use the pattern to make a 12 inch block. All the pages are available free for personal use.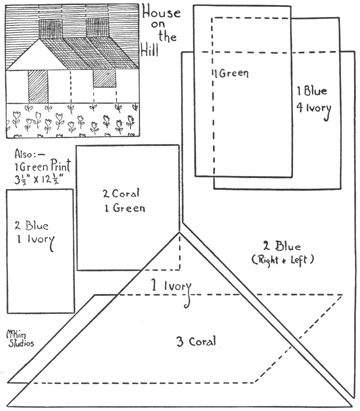 Still not a good photo of my Honeymoon Cottage; the background fabric is white. Honeymoon Cottage is also in 101 Patchwork Patterns. Unfortunately the pattern isn't printed, you had to send away and buy the pattern for 20 cents. Material for the whole quilt was $2.95.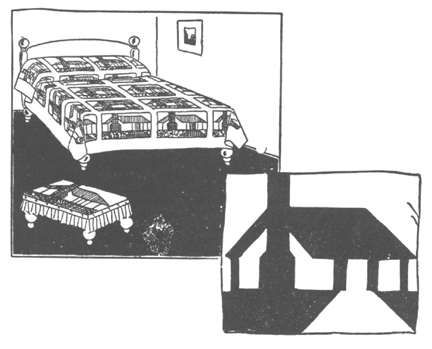 I've been pretty happy in 1937 with feedsacks and house blocks. But if you look in the sidebar to your left you will see a ready to be quilted Chester Criswell Quilt. Three cheers for turkey red and green and 1852!
Carole at
Wheels on the Warrandyte Bus
had been always ready to post her progress on the CCCQ, and she was also a
guest blogger
back in 2013. Carole didn't use all of my patterns, some of the blocks pictured are her own designs. Can't wait to see it quilted!